The Foliage Garden
As she is a garden designer by profession Esra's garden often doesn't get the attention it deserves as she's very busy designing gardens for her clients. However lockdown has given her the chance to look at what tweaks she might make to what is already an extremely beautiful space.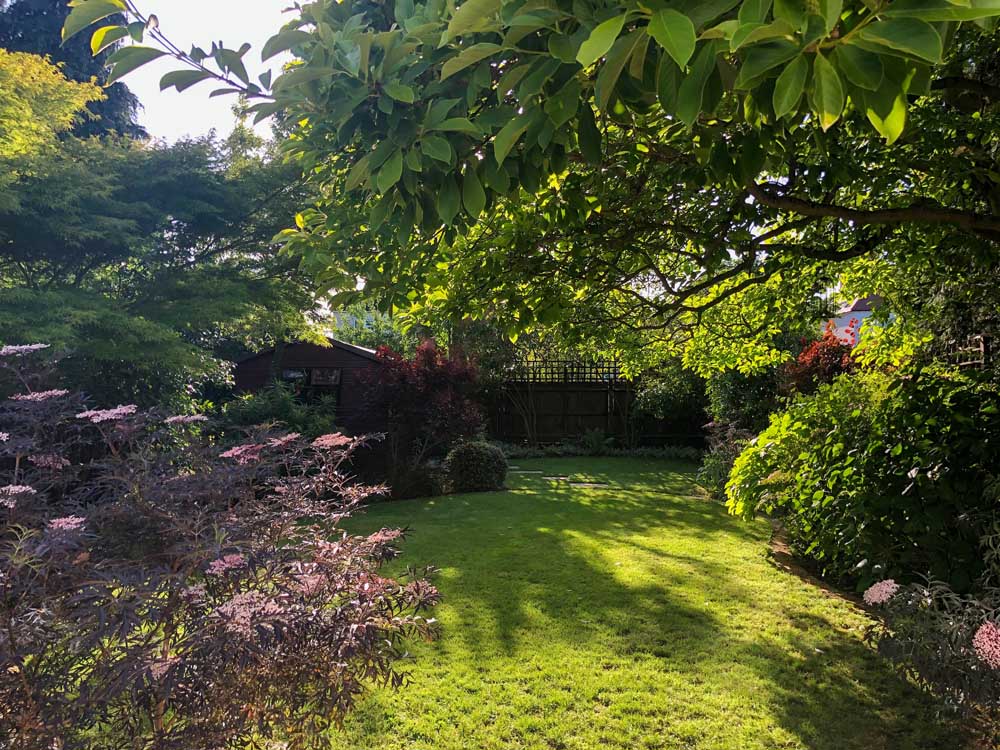 Esra says: We've had this garden for thirty years now so it has gone through quite a few changes. The previous owner of the house tended the garden daily and we still have a few shrubs from her day, including the beautiful Magnolia tree that we fell in love with at the first viewing. Over the years we tweaked and added new plants haphazardly until Roger from Mike Bayon helped remodel the garden about 15 years ago. When I trained as a garden designer, I started to replant slowly.
The major change happened in 2015 when many of the plants were relocated from my 'Spirit of the Aegean' show garden at RHS Hampton Court. Some of the herbaceous perennials have reseeded around the garden or disappeared altogether, but most of it thrives and the Oleander still has beautiful white flowers every summer! 
The kidney shaped main lawn has a brick edging which helps define the boundary and makes mowing the grass much easier.
There is a combination of evergreen structure, tall deciduous shrubs and trees all interplanted with varied levels of herbaceous perennials. There is something different to look at throughout the year and each season brings joy. The planting is mainly in cool colours and there is a huge variety of foliage colour and shape.
I make the overall design decisions and my husband and I work together to maintain everything. 
My work demands generally mean that our own garden doesn't get as much attention as my clients' but lockdown has been an opportunity to rethink some areas and undertake extended work. I've been staining our fences a dark brown which makes them disappear into the background and highlight the greenery more. I still haven't finished!
My favourite things are:
the stunning but short lived  Magnolia  that dominates the garden ; watching the Acer and Cotinus come into leaf and change colour throughout the seasons is a daily joy.
The garden has evolved over the years to accommodate the boys growing up, swings, climbing frames, football goals, chickens and a table tennis table. Now we look forward to gathering the family around the table for meals.
Click on images to enlarge