Country Woodland in the City Garden
Designing around two magnificent sycamore trees, ceramicist Fiona has spent a dozen years developing her wildlife filled, colourful oasis. As well as serving as space for her studio, it offers joy through shade, texture and repetition.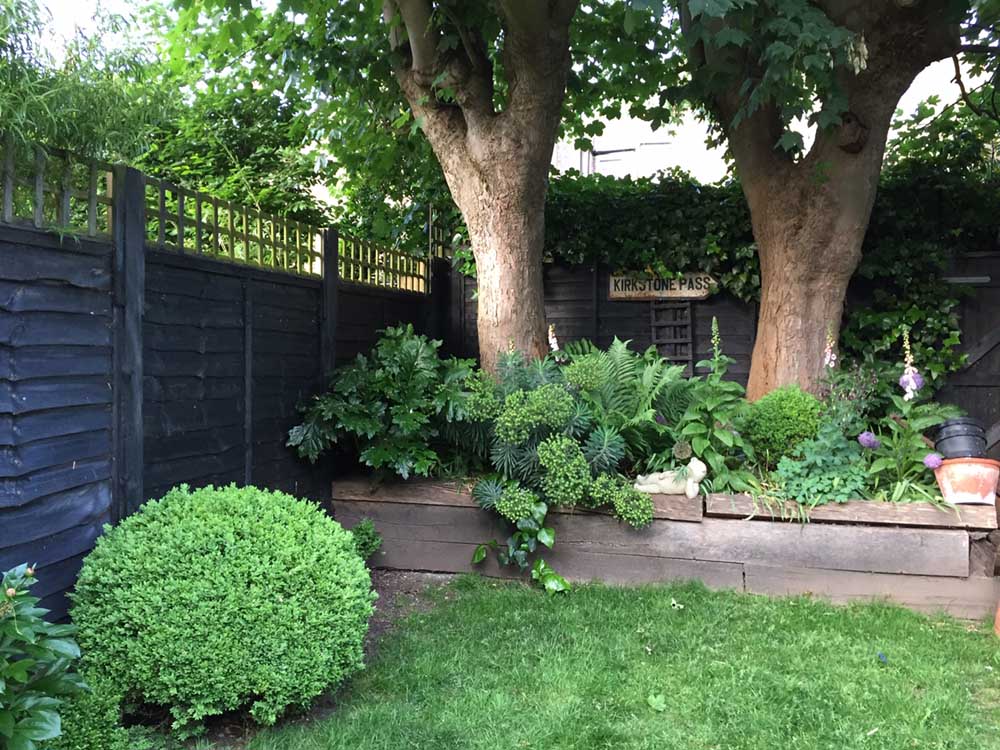 Fiona says: My starting point were the two large sycamore trees which have a preservation order on them. They screen all the opposite buildings, are filled with a multiplicity of birds and wildlife, a drama in itself and we are very grateful to have them. I've filled the garden with my favourite plants. Many shade loving. I've made it low maintenance and consequently it largely looks after itself! I've kept the numbers of different kinds of plants to a minimum and employed some repetition – it helps in a smallish garden to give it cohesion. I've mixed formal box hedging, the bones of the garden, with a wilder softer style which frequently bursts out. Leaf shape was also important in the design and for a long time the palate was mostly just shades of green which I love. Now I've injected the odd blast of colour that you can't ignore! 
My garden is also a workspace. The shed which once housed tools, now houses my pottery wheel…fionaadamceramics.com. Hence the photo of the sink. I look after the garden though my husband is keen on the lawn!
I like the idea of a "natural" garden with ideas borrowed from local flora and fauna. I hate instant gardens as they are prone to failure! Because a garden is never "finished" it will inevitably change at some point but I've kept some lawn in the middle as a happy space for adults to sprawl out in, or children to play. My plants: One of my favourite plants is Acanthus Mollis. It's a bit of a brute but provides fantastic shiny green leaves all through the winter. Another love is the dramatic lime green Euphorbia wulfenii which is difficult to get hold of in garden centres probably because it is very slow growing. I was introduced to Cana Indica (17th century version) through my work as a plant propagator volunteer at the National Trust's Ham House. It grows like topsy and gives you many more additional plants every year…very generous. It has huge bronze paddle leaves and gorgeous red/orange flowers nearly up to Christmas. I also have a much loved collection of domestic water tanks which I use as planters…very useful to contain rampant bamboo.
Click on images to enlarge